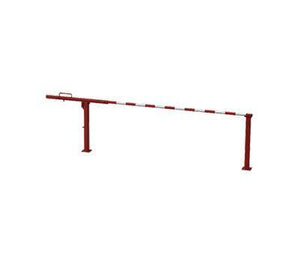 Manual Surface Mount Lift Barrier
Liftmaster
SKU: 14000S-12
Regular price $2,113.44 Sale
Easy to install single arm construction.
Extremely effective and economical for unmanned traffic control.
Lightweight round aluminum arm.
Manual
Surface Mount Power
Pivot assembly with LiftMaster Gate Hardware.
Additional counterweights can be added, allowing ease of lift.
Can be padlocked in the up or down position.
Red with white reflective stripes.
Barrier Receiver Post (Product # 14000SR) required with all Surface Mount Manual
Lift Barriers over 15 foot long.