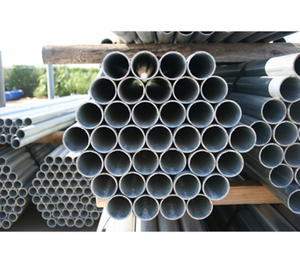 2-1/2" x .095 x 24' Galvanized Pipe Light Commercial
The American Fence Company
SKU: 4066240
Regular price $78.62 Sale
This pipe is used on a galvanized chain link fence.  This is a 2-1/2" x 24' Galvanized Pipe for Light Commercial use. Galvanized piping is known for its exceptional strength and corrosion resistant qualities. Galvanized pipe is long lasting, affordable, and durable.
Wall thickness: 0.095 
2-1/2" O.D.
Rust/corrosion resistant
Pipe must be cut down to lengths shorter than 8' to ship UPS. This pipe is cut to customer specifications, please note your desired length during checkout, which will reduce your shipping costs.  Please speak with an America's Fence Store representative.
If needed at full length, please contact America's Fence Store to place the order.