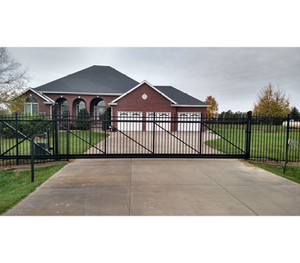 Aluminum Ornamental Flat or Spear Top 6' tall Slide Gate
The American Fence Company
SKU: CUSTOMGATE1-S12
Regular price $5,464.65 Sale
Looking to add style and class to your property with an estate gate without any exhausting upkeep? Our Aluminum Ornamental Slide Gate is both lightweight and naturally rust resistant, so it will require little upkeep. Put in little effort but still impress all your neighbors with this regal-looking estate gate.
Available in 12' opening 18' overall, 16' opening 24' overall, 20' opening 30' overall and 30' opening 45' overall.
Gate opening is 2/3 the length of the entire gate. 6' fence height.
Includes hardware. No posts included.
Superior corrosion resistance
Elegant design
Best gate to use on sloped properties
Lightweight construction for effortless movement
Choice of spear top or flat top design