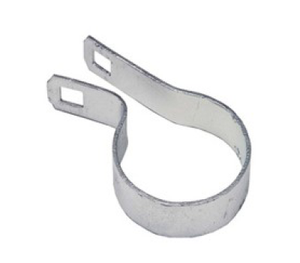 2" Galvanized Steel Tension Band 20 Pack
The American Fence Company
SKU: 10405PK20
Regular price $18.77 Sale
What do you need to build a chain link fence? In addition to the posts and the actual chain link fabric, an essential component that you must have are steel tension bands. These are the accessories used, in combination with tension bars (sold separately), to not only attach your chain link fabric between fence posts but stretch the fabric into a tense state so that your fence is strong and people and animals cannot easily remove or crawl under the fabric.
To attach these 2" Galvanized Steel Tension Bands, simply slide them over and down the terminal post (gate posts, end posts, corner posts, etc.) and space them apart evenly. Then slide the bolts (sold separately) through the tangs and tighten. The tension bar is slipped vertically through the tension bands and the fabric of the fence. These bands are made of rust resistant galvanized steel, which helps make your fence long lasting. These bands can also be used for gate frames and come in packs of 20.
Doesn't include Carriage nut or bolt
Can also be used for gate frames 
2" size tubes 
Steel construction 
Comes in black, part #10405B.