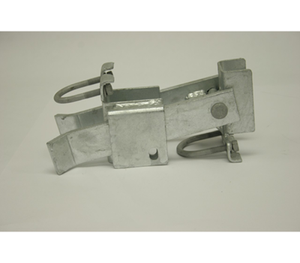 1-5/8" or 2" American Double Drive Latch - Commercial
The American Fence Company
SKU: 10901
Regular price $56.43 Sale
Bring extra security to your gate without the need of a drop rod with the 1-5/8" or 2" American Double Drive Commercial Latch. Able to be used with varying sized gaps between fence panels, this latch also keeps your gate in-line with your fence.
Can bridge gaps of 2" to 6" 
Eliminates need for drop rod
Size post: 1-5/8" or 2" 
Galvanized heavy steel 
Secure latch on double drive gates 
Looking for a double drive gate lock that is nonremovable, doesn't require a drop rod and whose padlock is enclosed and can't be cut? Check out the American Ultra Latch today!