Galvanized Steel Slide Gate
Cantilever gates are an excellent choice for storage issues. The gate takes up little space as it stores up against an adjoining fence line. Unlike a large swing gate where you must keep the entire area clear where the gate sweeps closed or open; a cantilever gate has a very small footprint. A cantilever gate's overall length is usually one and a half the distance of the opening. So, if you have a 30' opening; your gate is 45' overall. You must account for this space along the fence where the gate stores. Steel cantilever gates are very reliable and economic. Steel cantilever gates that use an all tubular steel frame where the top and bottom horizontal frame members are also the track of the gate. The gate is captured between two bottom and top rollers. Roller covers must be installed to protect others in accordance with ASTM 2200 and UL325.   *Please note that the gate picture represents a custom gate.  Please refer to the style drawing for a more accurate representation of your gate.
We are here to help! Contact us with any questions.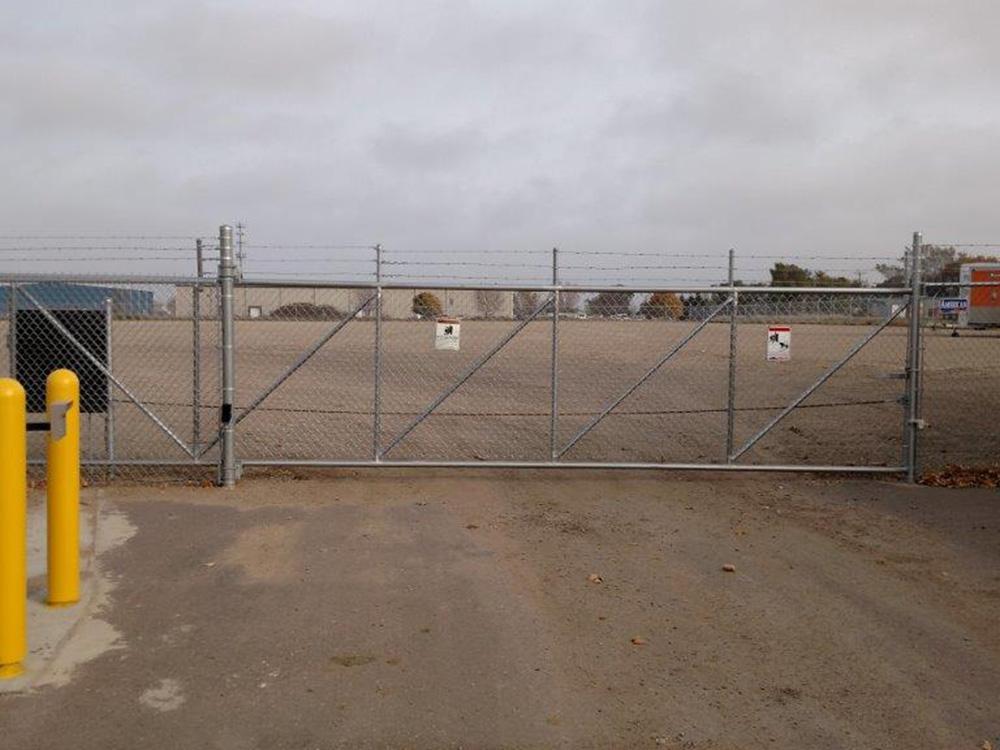 Select Gates
| | Product | Unit Price | Attributes |
| --- | --- | --- | --- |
| | Galvanized Chain Link Rolling Gate - 6' x 4' / No Barbwire | $288.90 | |
| | Galvanized Chain Link Rolling Gate - 8' x 4' / No Barbwire | $298.80 | |
| | Galvanized Chain Link Rolling Gate - 10' x 4' / No Barbwire | $371.78 | |
| | Galvanized Chain Link Rolling Gate - 12' x 4' / No Barbwire | $381.65 | |
| | Galvanized Chain Link Rolling Gate - 16' x 4' / No Barbwire | $464.45 | |
| | Galvanized Chain Link Rolling Gate - 20' x 4' / No Barbwire | $547.33 | |
| | Galvanized Chain Link Rolling Gate - 24' x 4' / No Barbwire | $567.10 | |
| | Galvanized Chain Link Rolling Gate - 6' x 6' / Barbwire | $470.70 | |
| | Galvanized Chain Link Rolling Gate - 6' x 6' / No Barbwire | $371.78 | |
| | Galvanized Chain Link Rolling Gate - 8' x 6' / Barbwire | $480.58 | |
| | Galvanized Chain Link Rolling Gate - 8' x 6' / No Barbwire | $381.65 | |
| | Galvanized Chain Link Rolling Gate - 10' x 6' / Barbwire | $616.58 | |
| | Galvanized Chain Link Rolling Gate - 10' x 6' / No Barbwire | $517.65 | |
| | Galvanized Chain Link Rolling Gate - 12' x 6' / Barbwire | $626.45 | |
| | Galvanized Chain Link Rolling Gate - 12' x 6' / No Barbwire | $527.53 | |
| | Galvanized Chain Link Rolling Gate - 16' x 6' / Barbwire | $772.40 | |
| | Galvanized Chain Link Rolling Gate - 16' x 6' / No Barbwire | $673.48 | |
| | Galvanized Chain Link Rolling Gate - 20' x 6' / Barbwire | $918.33 | |
| | Galvanized Chain Link Rolling Gate - 20' x 6' / No Barbwire | $819.40 | |
| | Galvanized Chain Link Rolling Gate - 24' x 6' / Barbwire | $938.13 | |
| | Galvanized Chain Link Rolling Gate - 24' x 6' / No Barbwire | $839.20 | |
| | Galvanized Chain Link Rolling Gate - 6' x 7' / Barbwire | $480.58 | |
| | Galvanized Chain Link Rolling Gate - 6' x 7' / No Barbwire | $381.65 | |
| | Galvanized Chain Link Rolling Gate - 8' x 7' / Barbwire | $490.48 | |
| | Galvanized Chain Link Rolling Gate - 8' x 7' / No Barbwire | $391.55 | |
| | Galvanized Chain Link Rolling Gate - 10' x 7' / Barbwire | $626.45 | |
| | Galvanized Chain Link Rolling Gate - 10' x 7' / No Barbwire | $527.53 | |
| | Galvanized Chain Link Rolling Gate - 12' x 7' / Barbwire | $636.35 | |
| | Galvanized Chain Link Rolling Gate - 12' x 7' / No Barbwire | $537.43 | |
| | Galvanized Chain Link Rolling Gate - 16' x 7' / Barbwire | $782.30 | |
| | Galvanized Chain Link Rolling Gate - 16' x 7' / No Barbwire | $683.35 | |
| | Galvanized Chain Link Rolling Gate - 20' x 7' / Barbwire | $928.23 | |
| | Galvanized Chain Link Rolling Gate - 20' x 7' / No Barbwire | $829.30 | |
| | Galvanized Chain Link Rolling Gate - 24' x 7' / Barbwire | $948.00 | |
| | Galvanized Chain Link Rolling Gate - 24' x 7' / No Barbwire | $849.08 | |
| | Galvanized Chain Link Rolling Gate - 6' x 8' / Barbwire | $490.48 | |
| | Galvanized Chain Link Rolling Gate - 6' x 8' / No Barbwire | $391.55 | |
| | Galvanized Chain Link Rolling Gate - 8' x 8' / Barbwire | $500.38 | |
| | Galvanized Chain Link Rolling Gate - 8' x 8' / No Barbwire | $401.45 | |
| | Galvanized Chain Link Rolling Gate - 10' x 8' / Barbwire | $636.35 | |
| | Galvanized Chain Link Rolling Gate - 10' x 8' / No Barbwire | $537.43 | |
| | Galvanized Chain Link Rolling Gate - 12' x 8' / Barbwire | $646.25 | |
| | Galvanized Chain Link Rolling Gate - 12' x 8' / No Barbwire | $547.33 | |
| | Galvanized Chain Link Rolling Gate - 16' x 8' / Barbwire | $792.18 | |
| | Galvanized Chain Link Rolling Gate - 16' x 8' / No Barbwire | $693.25 | |
| | Galvanized Chain Link Rolling Gate - 20' x 8' / Barbwire | $938.13 | |
| | Galvanized Chain Link Rolling Gate - 20' x 8' / No Barbwire | $839.20 | |
| | Galvanized Chain Link Rolling Gate - 24' x 8' / Barbwire | $957.90 | |
| | Galvanized Chain Link Rolling Gate - 24' x 8' / No Barbwire | $859.23 | |